The "King of the Road Show" airs every Saturday night at 9:30 and on Thursdays at 5:30 a.m. on Fox 4 KBTV... Register to win an autographed "King of the Road Show" T-Shirt - compliments of T's Lakeside Depot!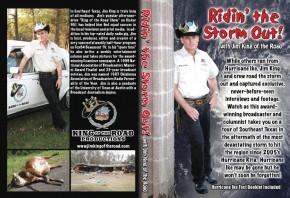 While others ran from Hurricane Ike, Jim King and crew road the storm out and captured exclusive, never-before-seen interviews and footage. Watch as this award-winning broadcaster and columnist takes you on a tour of Southeast Texas in the aftermath of the most devastating storm to hit the region since 2005's Hurricane Rita. Hurricane Ike may be gone but he won't soon be forgotten.
Lumberton, TX based author David J. Hearne has written a thrilling novel entitled "Hulagu's Web: the Presidential Pursuit of Senator Katherine Laforge." He weaves together an extraordinary tale of contemporary politics, combining some of its most explosive elements. Hulagu's Web traces the unusual presidential run of Katherine Laforge as she tries to maneuver the political landmines of the early twenty-first century. The story, told through the eyes of one of Laforge's childhood friends, begins with a brutal massacre on the Laforge campaign bus. The book is available at Amazon.com and Book Heaven in Lumberton, TX.